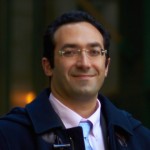 I am a patent  and intellectual property attorney with years of experience in the business world.  I work with businesses, entrepreneurs, non-profits, government agencies and inventors in a range of intellectual property and transactional work (see more about my practice areas).  Before practicing law, I ran my own computer software consulting business.  I enjoy programming and building, and draw on that experience now to help my clients.
I enjoy working with entrepreneurs and creative people, helping them to build or grow a business, to protect their ideas and inventions with IP and business strategies that make sense for them. 
I would be glad to meet with you to discuss what you're looking for and how I may be able to help.  I offer low-cost initial consultations, in person, via videochat, or over the phone.  Please visit my contact me page which has a form to send me an email, and  includes my office location and phone.  I look forward to speaking with you soon.
You can also sign up for my monthly newsletter here (in a new window) or on my contact me page  (I will never sell or share your contact information).  Please check out my blog for updates related to intellectual property.  You can follow me, and I'm happy to connect with you on, social networks (Twitter, LinkedIn, or Google+), and you can check out my Avvo profile, including my answers to legal questions from the public (also visible here on my blog page) and reviews of me by clients (also visible below on this page).  You can download my vcard from my Dropbox.
U.S. Patent & Trademark Office, 2012
Commonwealth of Massachusetts, 2009