&nbsp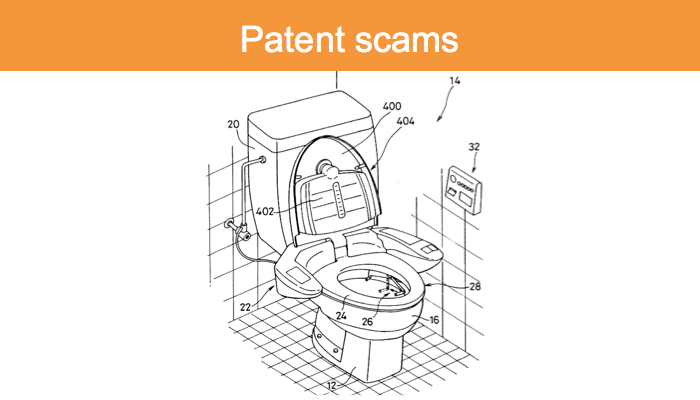 Patent scams
After filing a patent application, you will often receive patent scams: letters demanding payment.  The same thing happens after you file a trademark registration application.  These letters look official.  Don't pay them!  You might as well flush your money down the toilet (yes, that's why I chose an image of a toilet for this post).  Instead, read on to learn the hows and whys of these scams.
How do the scams work?
When anyone files a patent application or a trademark registration application, you have to include the name and address of the applicant or owner.  Those are public record: anyone can look them up.  And then scammers send a letter that makes it look like you need to pay them, and soon. 
Well-known scams
You have to hand it to them: these scam companies do a good job at preparing scam letters.  The letters look official, with forms, boxes, amounts "due," a deadline, and info on where and how to send them the money.  But they are scams.  The scammers have no connection to the government agencies that register patents or trademarks.  Many government intellectual property agencies list patent scam and trademark scam companies, and include examples of their letters, on their websites.  Take a look at the USPTO's pages on patent scams and trademark scams, WIPO's pages on requests for payments of PCT fees and for Madrid Protocol trademark filings, and EPO's page on patent fee solicitations.  Here's an example that a client of mine received, demanding $2,356.00 (and yes, "International Patent & Trademark Index" is on the lists of known scammers).
Why do the patent scams persist?
You may be wondering, if the companies are so well known, why aren't they shut down and prosecuted?  The scammers generally operate legally, by demanding payment in order to list your patent application or trademark registration application in their database.  They generally do have a database, so you'd be paying for a service – and it's legal for them to ask you to send them money.
But, whatever the scammers provide is irrelevant to any clearance search for or registration of your patent or trademark.  You don't need to have your patent application or trademark registration application registered with them.  It's worthless, and certainly not worth the $1800 or $2400 (or whatever amount) they are demanding.
These patent scams exists because it's an easy way for them to make money.  It's not ethical, and it's not nice – but it's legal, generally.
How are these patent scams legal?
Picture a phonebook.  Yes, I'm dating myself, I remember using phonebooks.  Telephone companies publish them to list subscribers.  Private companies can also publish phonebooks (here's an interesting copyright law case on that topic…).  These patent scams and trademark scams are similar to private companies writing to people and demanding money to be included in another phonebook: it's obnoxious and unethical, and legal.  You don't have to pay, but some people probably would be tricked into paying, and that is enough incentive for these scammers to continue.
How should you respond to patent scams?
Don't.  Don't respond.  And certainly don't pay them.  Instead, check the letter you received against the lists of known scam letters.  If you're represented by an attorney, ask them – and if you're not represented by an attorney, you should be.  And, if your scam letter isn't on the list of known scams, you should definitely report it to the USPTO, WIPO, and other government agencies, because they'll be happy to list them.  If you have questions or have received a scam letter, compare it to known scam letters (see links above, and more at this Wikipedia page), or call me at 617-340-9295 or email me at my Contact Me page.  Or, find me on Facebook, Twitter, Google+, LinkedIn, Google Local, or Avvo.